We're proud to be finalists competing for 21 awards in the MENA Search Awards 2023. This achievement serves as proof of the committed strides we've taken in curating unparalleled strategies and solutions in response to the demand for digital acceleration across the market. Driven by an unmatched enduring vision to evolve, Assembly has experienced substantial growth, continually embracing new clients and valuable colleagues. The ongoing growth across all departments has allowed us to expand our footprint with new offices in Cairo and Riyadh.
"Assembly's strong presence and tremendous growth are the results of our unwavering vision to strategically bring the best in data, talent, and technology to businesses looking to grow in the MENA region. We are committed to staying at the forefront and we're incredibly proud that our team holds true to our core values, leading Assembly to immense success and well-deserved recognition in the region."
Faisal Dean – CEO, MENA at Assembly
Assembly is made of the ingredients of the modern agency, bringing together data, talent, and technology to deliver a connected set of solutions for media and more to the best brands on the planet. We're home to over 225 of the industry's top talent, who are all dedicated to bringing unmatched global omnichannel media expertise. Using data, technology, and business consulting capabilities, Assembly finds the change that fuels growth for brands worldwide.
Highlights of our shortlisted entries
At Assembly, embracing diversity, inclusion, and a sense of belonging are fundamental components of our business ethos and are prominently reflected within our MENA team. Our entry for Best Large SEO Agency and our 2022 win for Best Large Integrated Agency reflect the variety of our expertise and the vastness of our brilliant team's knowledge, granting us 21 spots at the finals.
"It's a proud moment for us at Assembly, reflecting our commitment to excellence. Our constant efforts to assemble a diverse and highly skilled team are actualized in the team we have today and their relentless dedication to crafting impactful strategies and curating powerful connections with their clients. We're delighted to be part of this premiere celebration, recognizing and celebrating the individuals who drive these proud moments of achievement."
Kinloch Magowan – Regional Director, MENA at Assembly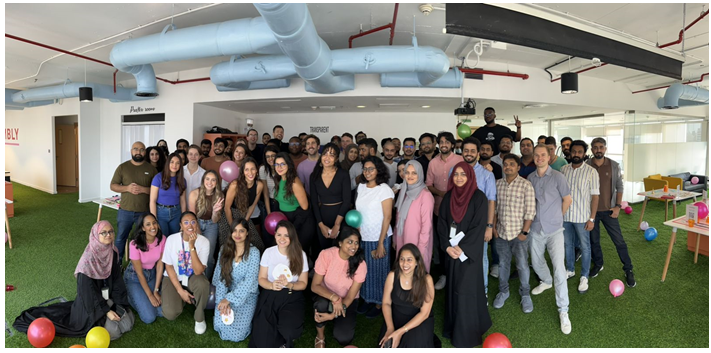 Paying homage to our tech-centric origins, our submission for the category of Best Software Innovation showcases a groundbreaking tool that represents a game-changer in the realm of digital advertising, powered by Assembly's STAGE data and feed management tool that revolutionizes campaign creation and management.
Innovation lies at the heart of everything we do at Assembly, as reflected in our shortlisted entry for Most Innovative Campaign. An essential part of our campaign for Centrepoint was executing a smooth and successful transition from Smart Shopping to cutting-edge Performance Max campaigns. This shift represented our dedication to staying at the forefront of original advertising technologies.
Demonstrating our deep-rooted knowledge of the region, our shortlisting for Best Arabic SEO Campaign is a testament to our successful audience-oriented Arabic-first strategies that helped Nice One, a leading Saudi beauty and care website, experience a substantial surge in organic traffic, welcoming 23 million website visitors.
"Assembly's Riyadh office puts us at the heart of digital transformation happening across Saudi with the 2030 vision. Brands are looking for partners who are not only experts across key media channels but more importantly, strategic business partners who can support their growth in the right ways. Our continual efforts to cultivate leading talent and become a partner of choice for brands in the region are evident in our shortlisted entries for Saudi businesses."
Naguib Toihiri – Country Director, KSA at Assembly
Assembly's success in the region has been reflected by several award wins, including our wins at the MENA Search Awards as Best Large PPC Agency in 2020, Best Use of Social Media in 2021, and Best Large Integrated Search Agency in 2022.